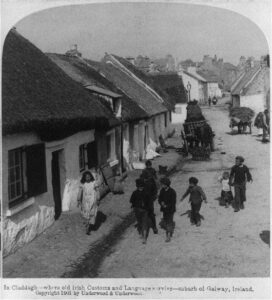 The story of the Claddagh Ring is a story we tell every day at Irish Traditions, but it begins 500 years ago on the west coast of Ireland in a tiny fishing village outside the ancient city walls of Galway, a village known as Claddagh.
Each morning the men would set sail into Galway Bay in their tiny curraghs with hopes of a great catch. In the bay, the wind could be strong and the seas high but there were other dangers too. As was oh so common at that time, pirates stalked the bay. One fateful day a family of fishermen was at sea. Sadly the men were captured by pirates and promptly sold into slavery. Richard was the youngest of the lot and was soon to be married, but alas he was forced to leave the Claddagh and his beloved behind.
Richard was sold to a goldsmith on the north coast of Africa where he was forced to tend the fires. The goldsmith eventually took a liking to him and began teaching him the trade of goldsmithing. A smart Irish lad and a quick study, Richard learned his trade quite well. A day never passed that Richard did not yearn to be at home in The Claddagh with the lass he left behind. Thoughts of love and home inspired Richard and each day he hoarded a spec of gold from his master. When enough gold had been stored he made a ring, a beautiful ring, a ring with true meaning. In his ring he combined three symbols – at the center was a heart signifying his love, the heart was embraced by hands signifying his friendship and the two were topped by a crown to mark loyalty to his love.
The years slowly passed and eventually, Richard either escaped captivity or was mercifully released, no one really knows for sure. What we do know is that he made his way across the oceans, across the continents, and finally across Galway Bay to the Claddagh. To Richard's great joy when he arrived home he found that the girl he loved had never married. With tears of joy in his eyes and a trembling hand, he presented to her the ring he had crafted half a world away and the two lived happily ever after.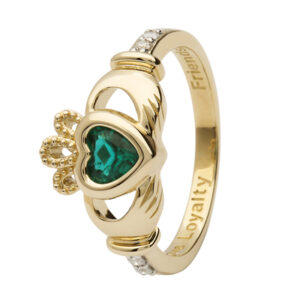 But our story does not end there, it cannot end there, because not only is it a lovely story, but it is the birth of one of Ireland's most endearing traditions. The tradition of the Claddagh is now known in every corner of the earth. It is a story and a tradition with such meaning that it captivates all of us 500 years later. Today the Claddagh Ring is worn as a symbol of Love, Loyalty, and Friendship, just as Richard intended. It also signifies a kinship to the history and traditions of Ireland.
For generations, Claddagh rings have been given to families and by friends but most often bought by the wearer for themselves to connect with their Irish heritage. A traditional Claddagh worn on the right hand with the heart facing in is often taken as a sign that the wearer is in a relationship. Worn with the heart pointed out it is generally assumed that the wearer's heart is available. Worn on the left hand with the heart facing in is a traditional sign of commitment. There are now many contemporary Claddagh designs used as engagement rings and wedding rings. Many, many of those Claddagh designs are also available at Irish Traditions, Tipperary Stores, and ShopTipperary.com.
A genuine Irish Claddagh is crafted by artisans in Ireland and has been assayed and hallmarked in Dublin Castle. The Irish Hallmark is your symbol of quality and is a tradition as old as the Claddagh itself.