Giving Thanks for a Good Harvest
You're prepping for the biggest family get-together of the American holiday calendar: Thanksgiving. There's turkey, cranberry sauce, yams, green bean casserole, and more decorative squash centerpieces than you could shake at with a pilgrim-buckled shoe. But… something's missing. That unique finishing touch that would bring your heritage to the table, too. Could it be… a black pudding salad? Or Shepherd's pie served with Apple Crumble? Try some Irish Dishes for Thanksgiving this year.
If you're like the other 40+ million people who claim membership to the Irish Diaspora, then adding Irish cuisine to your Thanksgiving day traditions could be the perfect blend for you. In America, we celebrate the early harvest meals of the Pilgrim's in the 1600s. And in Ireland, there are many dishes that are also dedicated to celebrating a bountiful harvest at the end of the year, such as barmbrack bread or a hearty stew.
Irish Cuisine for Thanksgiving
Below is a brief menu of harvest-themed Irish dishes. We think these will add the perfect amount of Irish charm to your Thanksgiving day meal. They are all linked to at least one example of many, many recipes available online.
Irish Lamb Stew (

RECIPE

)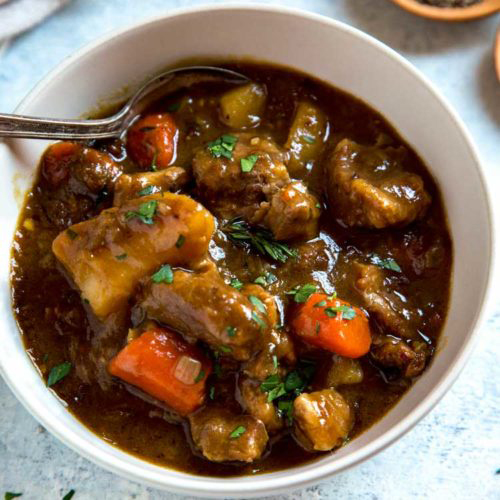 Waste not, want not. While stew is a world-wide style of cuisine, in Ireland stew was made from mutton & potatoes, two major food sources for hundreds of years. The stock was a masterful blend of herbs and vegetable trimmings so that nothing ever went to waste.
Shepherd's Pie  (RECIPE)
Ask any Irish citizen what they think of as "comfort food," and a large portion of them will mention Shepherd's Pie. Rich mashed potatoes over a savory ground meat dish, with gravy and vegetables. It's everything you want for dinner and it's a recipe perfect for a family gathering.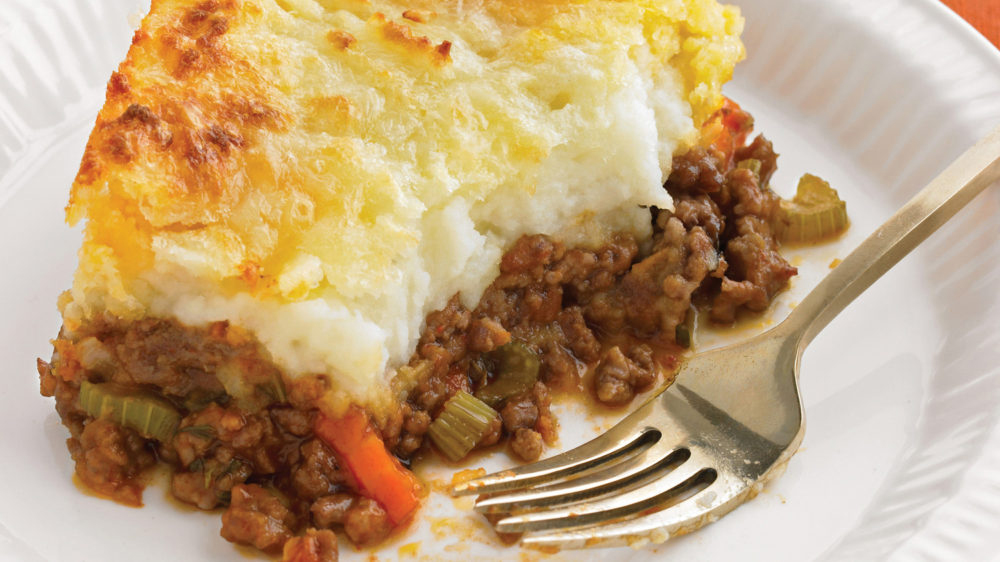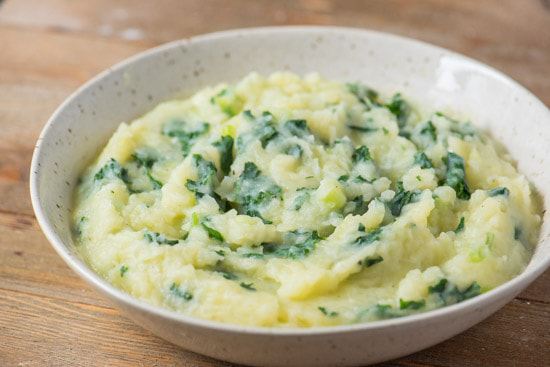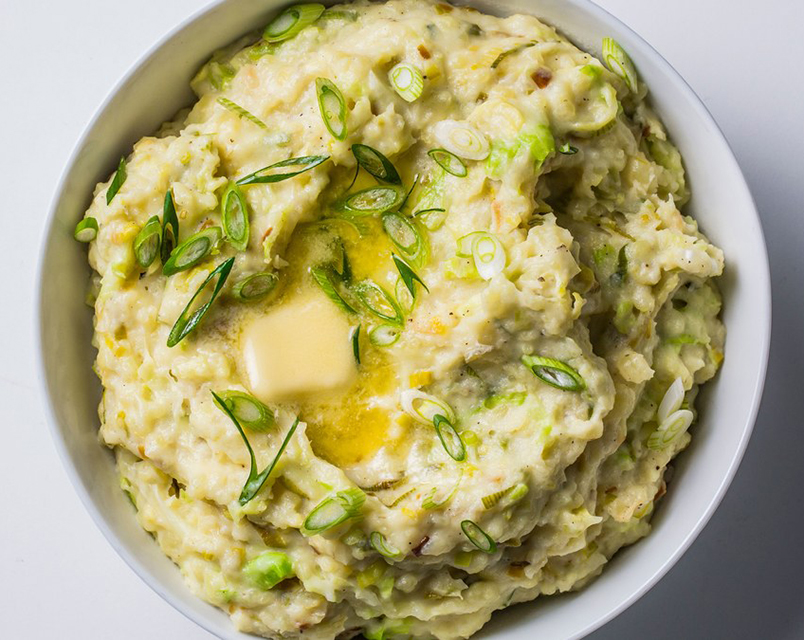 What is Colcannon? It's a delicious & uniquely Irish way of serving mashed potatoes with either cabbage, kale, or leeks. It seems that not a single Irish grandmother makes her Colcannon exactly the same way, which is certainly a part of the charm. The recipe linked above is a great version, but see if you can find the version right for you.
Ok, stay with us. Yes, we are in fact recommending using black pudding with a meal that is not breakfast. This spiced sausage (made with pork blood, spices, & a variety of pork meats) may not be the first thing you think of in a salad. But, it truly does pair beautifully with kale, arugula, spinach, apples, goat cheeses, pears, walnuts, light vinaigrettes, or other crisp-sweet-and-savory style salad components. We've listed a few different Black Pudding Salad recipes, so you can explore this adventurous alternative in many forms.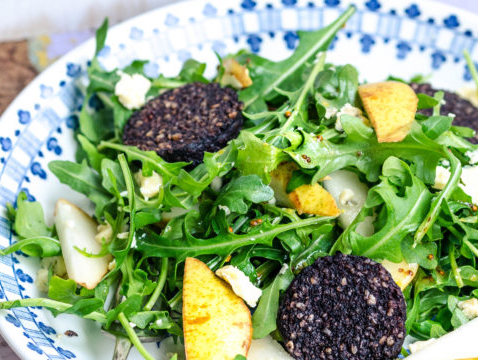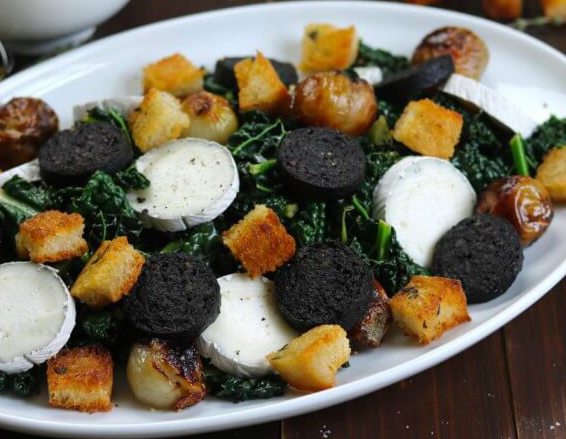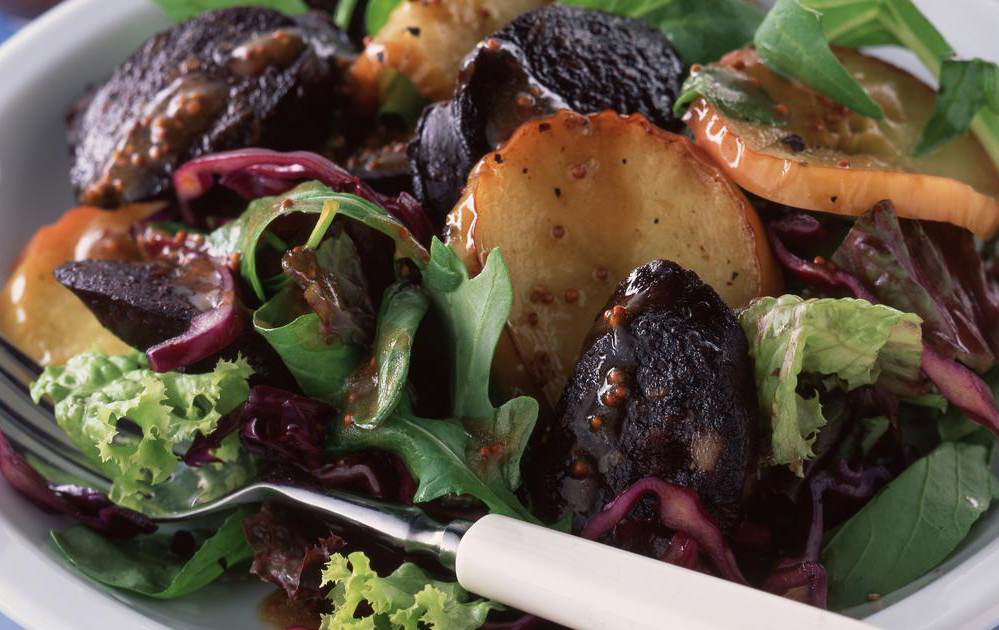 Three very different and very delicious Black Pudding Salads.
Barmbrack (Báirín Breac)  (RECIPE)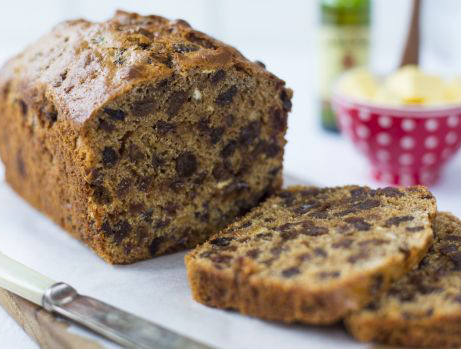 This Irish bread translates to "speckled bread," because of the sultanas and raisins mixed into the sweet brown dough. It is traditionally baked for Samhain, or Halloween, with a trinket baked inside. Whoever finds the hidden gem is blessed with good fortune in the year to come. It would also make an excellent side dish at an American Thanksgiving table, with or without the baked-in surprise.
Bailey's Irish Cream Cheesecake (RECIPE)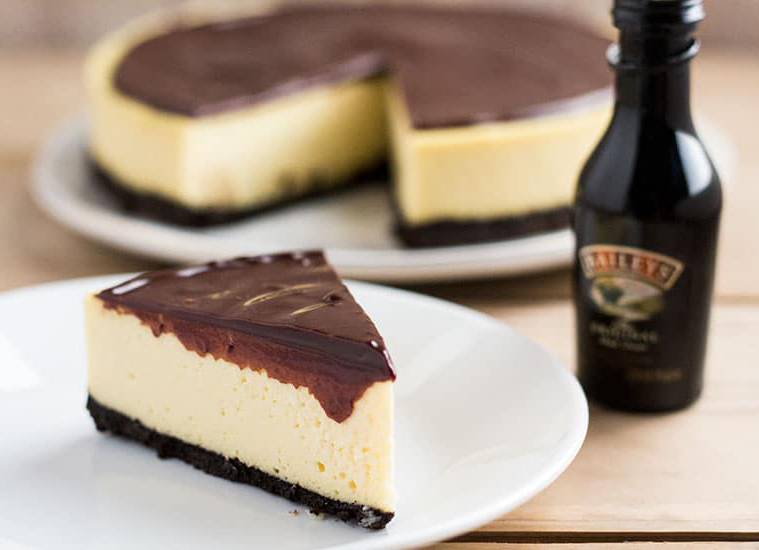 There are few fusions greater than cheesecake and Bailey's Irish Cream. A decadent and creamy Irish liqueur in a decadent and creamy dessert… If you didn't fall into a happy food-coma after dinner, this will certainly help.
Now, after having just finished gushing about the delicious taste of Bailey's Irish Cream… other Irish spirits could cap off your meal. Try a classic Irish coffee with Irish whiskey.  A genuine Irish Coffee needs hot black coffee, sugar crystals, Irish whiskey, and a lightly hand-whipped heavy cream layered on top. Nothing else will do.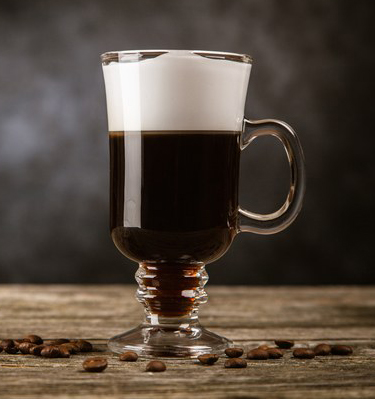 Irish Apple Crumble (RECIPE)
For the finale of a Thanksgiving Harvest-themed Irish Menu, one must include Irish Apple Crumble. This is a holiday staple that connects Irish families all across the green isle. For an example of the love the Irish have for a homemade Irish Apple Crumble,  here is a darling video of an Irish baker and her mum (Gemma's Bigger Bolder Baking) making Irish Apple Crumble together. They're using Bramley Apples: a particularly sour & tart apple that is the most traditional way to make this dish. https://www.youtube.com/watch?v=nkB6M1XtLno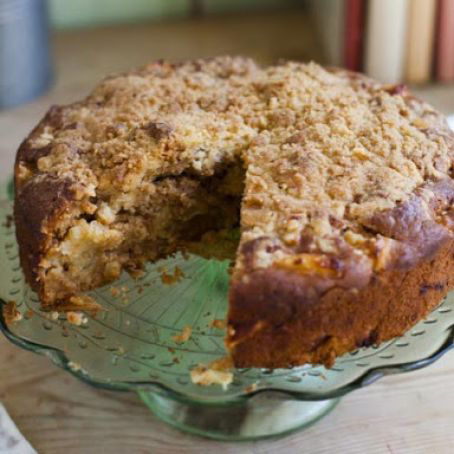 And there you have it! Let us know if you include any of these Irish Dishes for Thanksgiving into your holiday meals with your families.
Bain taitneamh as do bhéile!!
(that's Irish for "enjoy your meal!")