Marking the Year
Cultures around the world celebrate the days of the year, and the auspices people are born under,  in a multitude of unique ways. In the Western world, birthstones and Greek astrological zodiac signs based on constellations are the most common way for someone to find what makes their birthday unique. However, in ancient Irish Celtic cultures, they celebrated the different seasons of the year with sacred trees – their Celtic Tree Astrology.
Celtic Trees
Trees in Celtic culture are incredibly sacred. (read more about "They Who Know the Oak.") Various trees were thought to have healing, protective, and magick powers. They were thought to be the portals between the fairie world and ours, the connections between heaven and earth. The Celtic calendar (which was lunar) and the Ogham alphabets were both organized with names of different types of trees. There are three plants included in their calendar as well, which were also of significant importance in Celtic daily life.
What's Your Tree / Stone / Sign?
Calendar Months, Birthstones, Astrological Signs, and Celtic Tree Astrology from the Sacred Trees on the Celtic Calendar do not perfectly align with one another. For simplicity's sake, here they are listed by a month that they line up with the most (even if that's only 51%). The personality traits often associated with these symbols are also listed for your enjoyment only. So, these are not diagnostic, they are simply fun ideas and associations.
Once you find yours, follow the link so you can keep these symbols of yours close at hand with our Birthstone Claddagh Rings. Or, keep your whole family near your heart with our Mothers' Jewelry Collection.
Garnet – Deep Red Tone, named for its similarity to a pomegranate seed. Associated with Friendship and Trust.
Capricorn -The Sea-Goat. Inner Fortitude, Focused, Driven, Restrained at First, Slow to Open Up.  Playful and Joyful.
Birch Tree – The Achiever. A Fresh Outlook on Life. Zeal and Ambition. Tolerance, Toughness, Leadership. Brightens a Room with a Smile.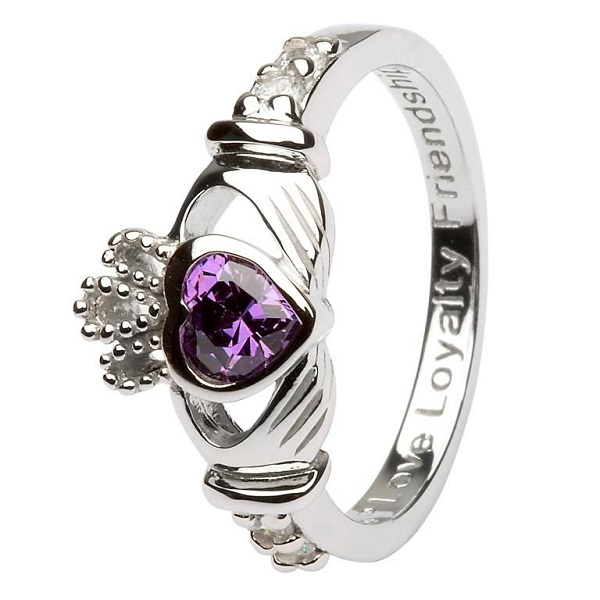 Amethyst – Deep Purple Tones. Associated with Royalty, with Wine (by preventing drunkenness), Mental and Emotional Clarity. Calming.
Aquarius – the Water-Bearer (Ganymede). Rebellious, Walks to the Beat of Their Own Drum, Thoughtful, Humanitarian, Eccentric, Free-Spirited.
Rowan

Tree

.

The Thinker, Keen-minded Visionaries. Aloof, Creative, Full of Energy and Devotion. Philosopher.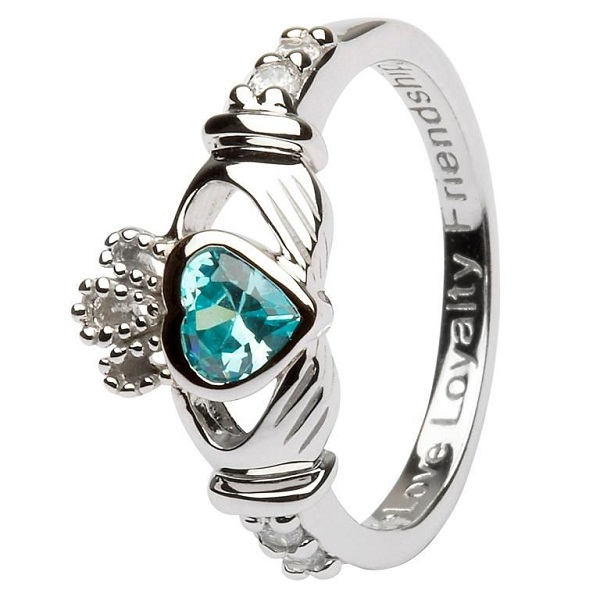 Aquamarine – Bright Glacial Blue. Purity of Spirit & Soul, Unity, Associated with the Ocean. Inspires Truth and Trust.
Pisces – the Two Fish.  Compassionate, Lots of Empathy, Emotional, Fantastical, Sensitive and Intuitive. Day Dreamers.
Ash Tree – The

Enchanter,

Free Thinkers, Intuitive and Imaginative. Competitive, Energetic, Extroverted, Sometimes Moody. In Touch with Inner Muse.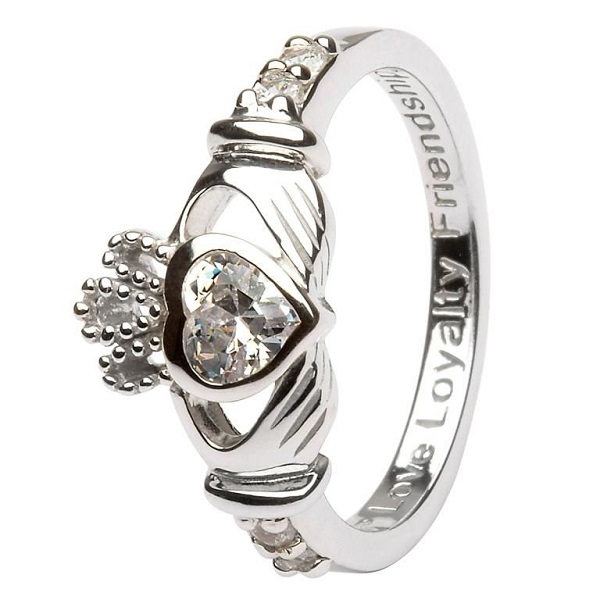 Diamond or White Topaz – Brilliantly Clear & Crystalline. Strength and Deep Relationships.  Associated with Love and Courage.
Aries – the Ram. Bold, Audacious, a Born Leader. Ambitious.
Alder Tree – The

Trailblazer,

Natural Pathfinder. Self Assured and Charismatic. Confident and Focused. Gregarious.

or Willow Tree – The

Observer,

Highly Intelligent, Creative, Intuitive, Lunar. Patient and Down to Earth.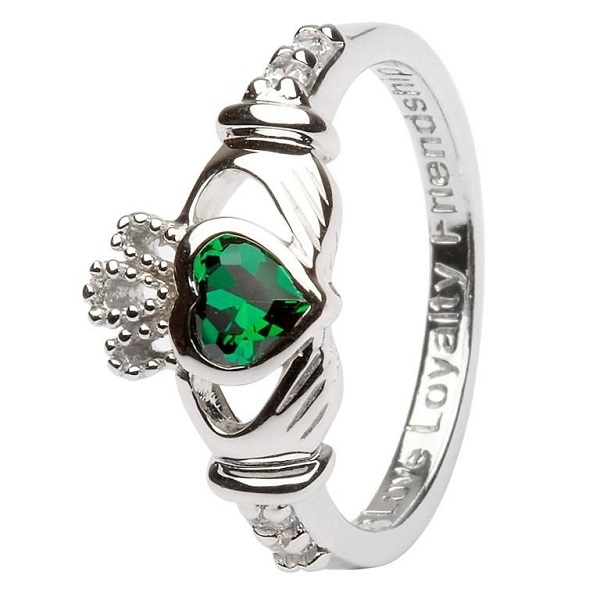 Emerald –  Luminous Deep Green. Associated with Love, Fertility, and Rebirth. Said to Bring Wisdom, Luck, Growth, and Patience.
Taurus – the Bull. Relaxed, Patient, Stubborn, Sensual & Serene.
Hawthorn Tree – The

Illusionist,

Dynamic, Adaptive, a Good Listener, Energetic & Curious. A Shapeshifter. Amazing Insight.

or Willow Tree – The Observer, Highly Intelligent, Creative, Intuitive, Lunar. Patient and Down to Earth. A Realistic Perspective and Understanding.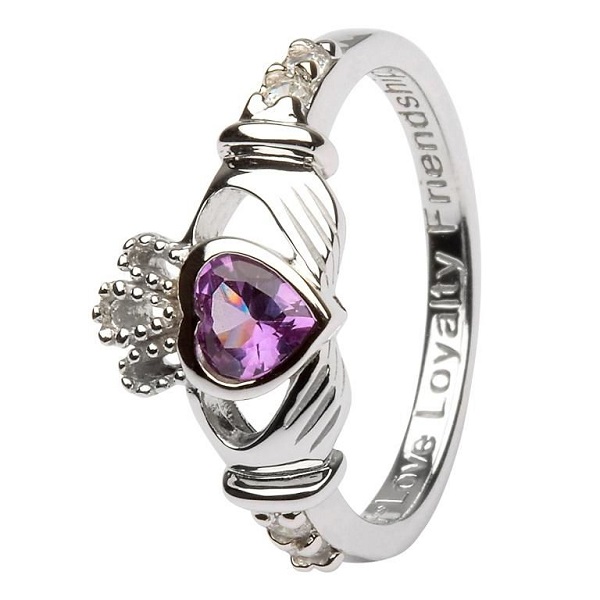 Alexandrite (Soft Pink), or Pearl (Irridescent White). Associated with Purity, Said to Strengthen Intuition.
Gemini – the Twins. Passionate, Inquisitive, Playful, Dynamic & Multifaceted Personality.
Oak Tree – The

Stabilizer,

Strong, Protectors of the Weak. Deep Understanding of History. Teacher, Crusader,  Champion for the Underdog. Needs Structure, Intrigued by Mystery. Naturalists.

Fun Fact – In ancient Ireland, the Oak was thought of as the most sacred of all the trees.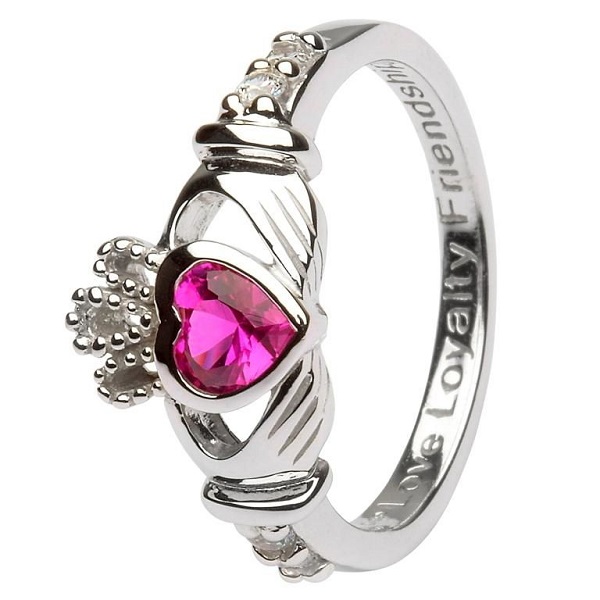 Ruby – Bright & Cool Fuschia-Red. Passion and Protective Energies. Associated with Wealth and Success.
Cancer – The Crab. Guarded, Highly Intuitive, both Grounded and Spiritual.
Holly Tree – The

Ruler,

Noble, Natural Leader, High Status, Tactful, Competitive, Ambitious, Kind and Passionate. Vigilant.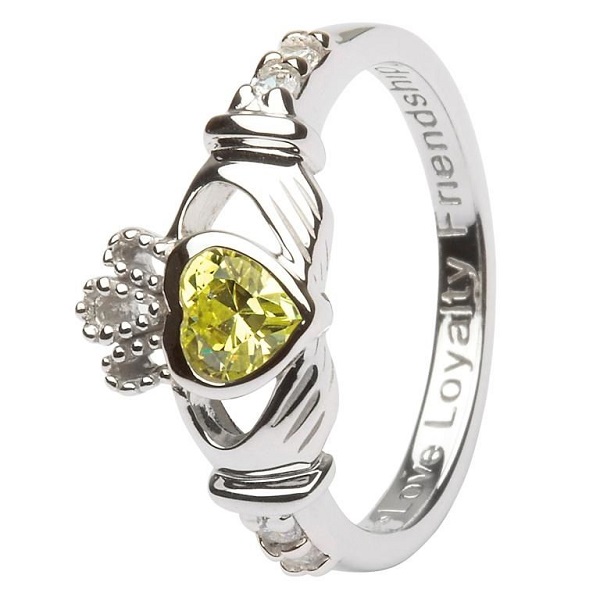 Peridot – Bright Citron Green. Associated with Psychic Strength and Protection from Nightmares. Formed from Lava. Uniting Love.
Leo – The Lion. Vivacious, Spirited, Theatrical and Passionate. Strong-Willed.
Hazel Tree – The

Knower,

Highly Intelligent, Excellent Skills, Organized, Clever. An Eye for Detail, Academically Gifted. Analytical.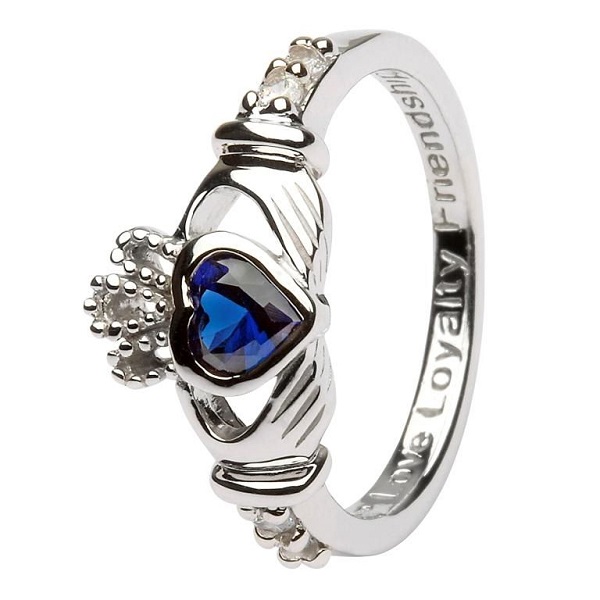 Sapphire – Deep, Rich Velvet Blue. Associated with Purity, Wisdom, and Protection Against Venom or Madness. Exceptionally Strong.
Virgo – The Goddess. Logical, Practical, Systematic, Diligent and Skilled.
The

Vine –

The Balance, Unpredictable, Born Under the Autumn Equinox, Indecisive. Can See the Value on Both Sides. Enjoys Luxury and Refinement, Generous.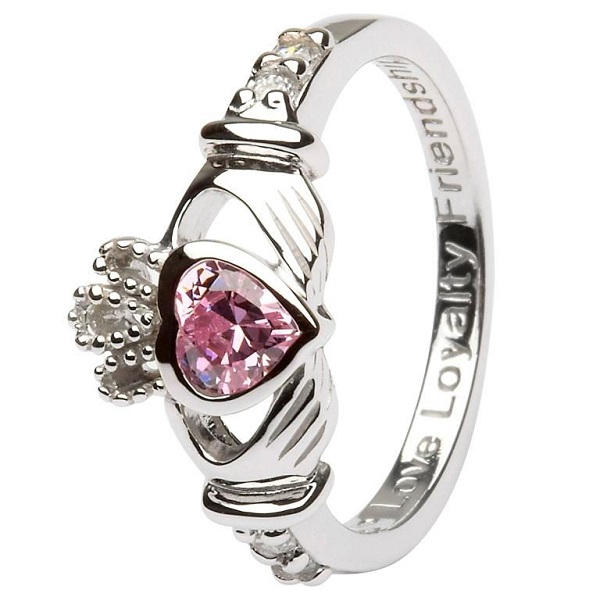 Opal, (or Pink Tourmaline) – Opalescent Hues & Pink Iridescence. Faithfulness and Confidence. Precious. Clarity in Eyesight.
Libra – The Scale. Loves Balance and Harmony, Artistic and Intellectual. Refined.
The Ivy – The

Survivor,

Ability to Overcome Any Challenges. Loyal, Compassionate, Witty. Soulful Grace in Face of Hardship.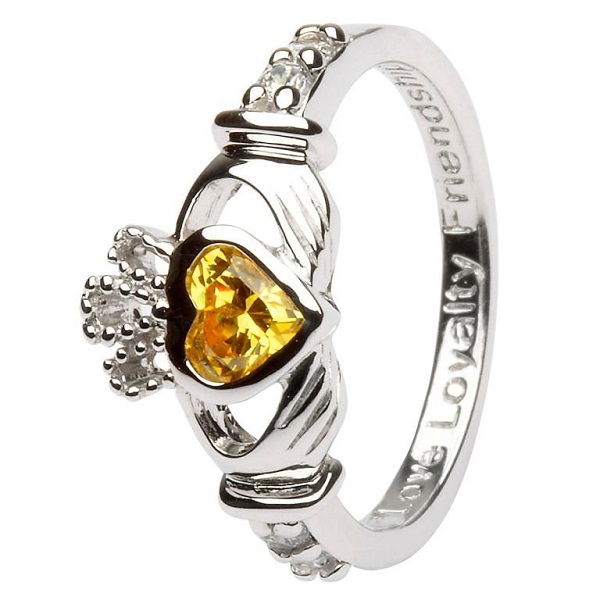 Yellow Topaz or Citron – Bright Warm Amber Yellows. Calming Energies. Associated with Intelligence and Fortune.
Scorpio – The Scorpion. Emotional, Powerful, Enigmatic, Seductive and Hard to Catch.
The Reed – The

Inquisitor,

Secret-Keeper. Digs for the Truth. Honorable. Great Archaeologists or Journalists.  A Schemer. Sociable with a Love for Travel.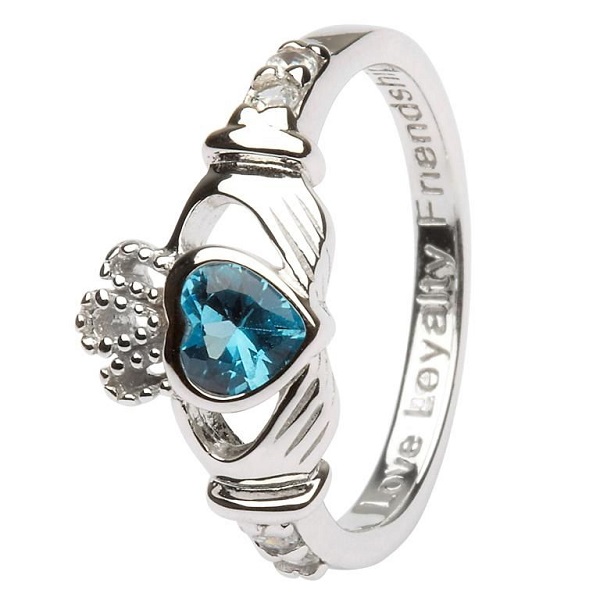 Blue Topaz, or Blue Zircon or Tanzanite – Induces Rest, Associated with Prosperity, Honor, Wisdom. Wards Off Evil.
Sagittarius – The Centaur. Adventurous, Hungry for Knowledge, Charming and Engaging.
Elder Tree – The Seeker, Freedom, Wild and Untamed. Considerate. Extroverts. Thrills and Adrenaline.
Which is your Celtic Tree Astrology? Does it ring true? Let us know in the comments.
For Celtic Tree Astrology Reference:
Birch Tree (Dec. 24 – Jan. 20)

Rowan Tree (Jan. 21 – Feb. 17)

Ash Tree (Feb. 18 – March 17)

Alder Tree (March 18 – Apr. 14)

Willow Tree (Apr. 15 – May 12)

Hawthorn Tree (May 13 – June 9)

Oak Tree (June 10 – July 7)

Holly Tree (July 8 – Aug. 4)

Hazel Tree (Aug. 5 – Sept. 1)

Vine  (Sept. 2 – Sept. 29)

Ivy  (Sept. 30 – Oct. 27)

Reed  (Oct. 28 – Nov. 24)

Elder Tree (Nov. 25 – Dec. 23)
Note: Other Celtic Calendars and the Ogham alphabet include trees such as the Apple Tree, Blackthorne Tree, Heather, Pine Tree, Yew Tree, and the Maple Tree.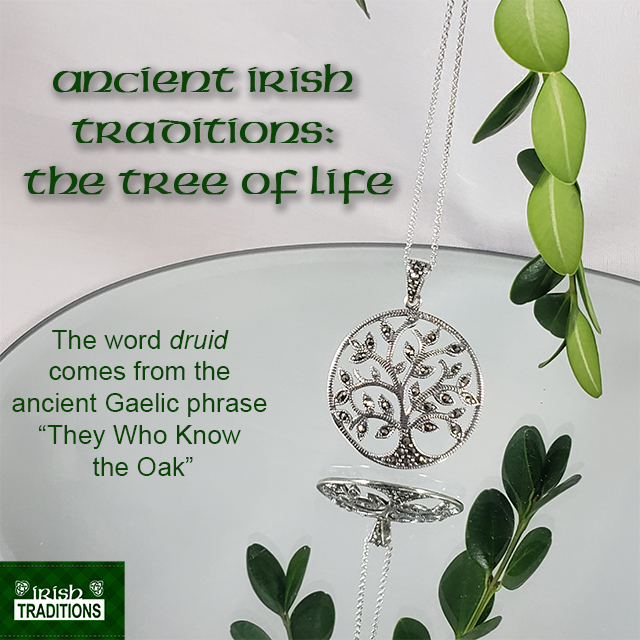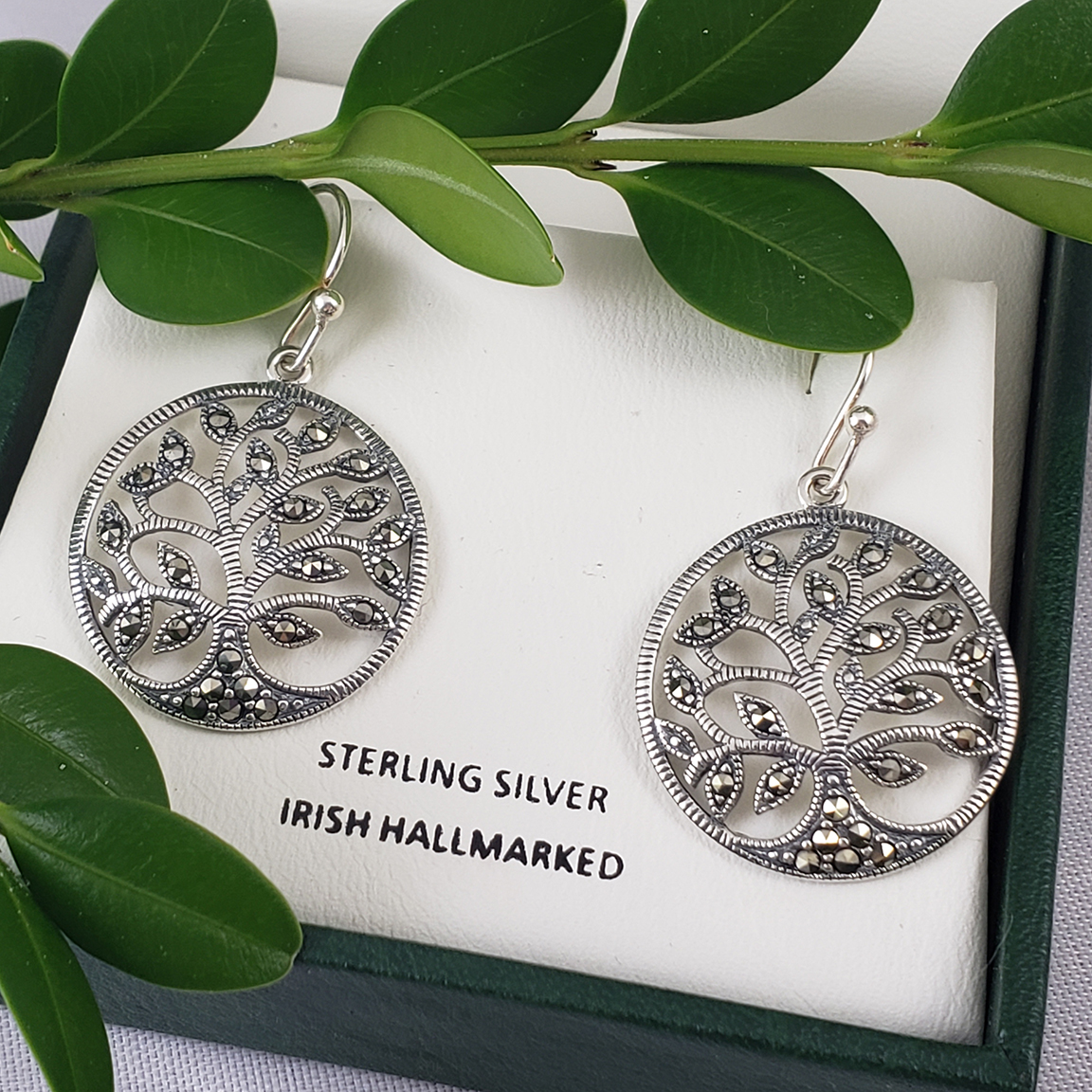 ♈AriesMarch 21 – April 19

♉TaurusApril 20 – May 20

♊GeminiMay 21 – June 20

♋CancerJune 21 – July 22

♌LeoJuly 23 – August 22

♍VirgoAugust 23 – September 22

♎LibraSeptember 23 – October 22

♏ScorpioOctober 23 – November 21

♐SagittariusNovember 22 – December 21

♑CapricornDecember 22 – January 19

♒AquariusJanuary 20 – February 18

♓PiscesFebruary 19 – March 20